What Goes With What? Finding And Using BuildSite Product Systems
Concrete forming, floor coloring, waterproofing, roof membrane, and fire protection systems - there are nearly as many systems available as there are projects themselves. Manufacturers and Distributors, of course, like to "sell systems". And Contractors appreciate the convenience and accuracy of getting everything they need up-front. BuildSite now offers Systems packages as another way to help you find the right products for the job.
Increasingly, manufacturers are using BuildSite to communicate the exact features or characteristics that make their product a good fit for your specific job. By grouping products into Systems, Manufacturers help Sales Reps and Contractors quickly choose the correct hardware, primers, mastics, additives, applicators, sealants, or drying agents to get the desired results - and eliminate costly redo's and errors.
BuildSite identifies systems with a yellow "System" icon next to individual product names. Upon choosing that product, you can view the full System package by clicking on the yellow "Show" button. From there, you can see submittal-ready Data Sheets, MSDS, Installation Instructions and Testing reports for each component of the package.
Here is an example of a BuildSite System, featuring Bituthene System 4000 Waterproofing Membrane from W.R. Grace.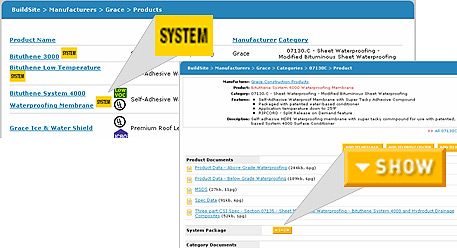 To view a short demo on how BuildSite Systems packages work, click here (and turn your speakers on!).

Look for BuildSite Systems whenever doing product research - and ensure you are getting "the right product for the job".
Got Feedback? Requests for New Content? Suggestions for New Features?
Send us a message at tellus@buildsite.com, or call us toll free at 888-717-8665. We are always delighted to hear from you!